There is much confusion between Photoshop CC and Photoshop Elements. Adobe develops both, but they are not the same program.
Adobe Photoshop CC is the clear industry standard. What is not so clear is where Photoshop Elements fits into Adobe's software offerings.
In this article, we will compare Adobe Photoshop CC vs. Photoshop Elements.
Adobe Photoshop Elements vs. Photoshop CC Workspace
Photoshop was developed in 1987 and is used by many to edit images. The program was not designed for this at first. Digital photography was emerging at the time. Adobe created Elements to focus on Photoshop tools most necessary for photographers.
Photoshop Elements was first released in 2001. Like Lightroom, Elements is a Photoshop spin-off designed to target photographers.
What is Adobe Photoshop Workspace?
The Photoshop CC workspace is customisable. Included are places for tools, adjustments, history, and layers. You have the option to add windows and open panels for more features and functionality. Actions let you automate a series of commands.
What is Photoshop Elements Workspace?
Photoshop Elements has three different workspaces depending on your post-processing skill level. Which one you choose depends on the amount of control you want when editing. You can choose to work in the Quick, Guided, or Expert workspace. Plus, there is an Organizer screen to import photos and help you keep track of your images.
Quick Edit
In Quick editing, you select options from a set of basic tools and adjustments. Click on the choices given until you find one you like. You can select from built-in Effects (filters), textures, and frames. Selecting a tool gives you more options.
Tools are in the left column. Highlighting a tool gives you more options in the bottom panel. Quick adjustments are in the right column. Click on a tool to see a set of choices. Effects and other options are in the bottom right-hand corner.
Guided Edit
The Guided edit workspace lets you do more advanced edits. There are many sophisticated effects like double exposures, sky replacements, and photo merging. There are also simpler adjustments like exposure, contrast, and colour enhancement. The terms used are user-friendly.
The guided adjustments are grouped into tabs across the top. A before and after picture gives you a sense of what the edit does to your image. Selecting edit opens a step-by-step guide making each simple to use. Many include an auto-correct option.
Expert Edit
The Expert edit workspace is for more advanced photo editors. There is a lot about the Expert workspace that will be familiar to Photoshop users. Included are favourite tools like healing brushes, shapes, text, and content-aware move. Each comes with user-friendly presets and simple instructions.
There is a layers panel that works like the one in Photoshop. You can even add layer masks. Filters and styles available in Photoshop are also in Elements. Elements also adds graphics and frames popular with consumer photographers on social media. Clicking the More icon in the bottom right corner adds most of the other Photoshop features.
What About Importing, Cataloguing, and Exporting?
You can open many types of image files in both Photoshop CC and Photoshop Elements. This includes raw files.
Photoshop CC does not include a cataloguing option. The Elements Organizer workspace sorts images by people, places, and events. The program will group photos. You can also individually rate, tag/keyword, and caption your photos.
Photoshop Elements includes easy-to-use export options for the casual photographer. Photos post to popular social media sites like Flickr and Youtube. You can create slideshows with music and templates. Elements also makes it easy to print, create a photo book, and other popular sharing options. The templates favour ease of use but there is a limit to how much you can customise the templates.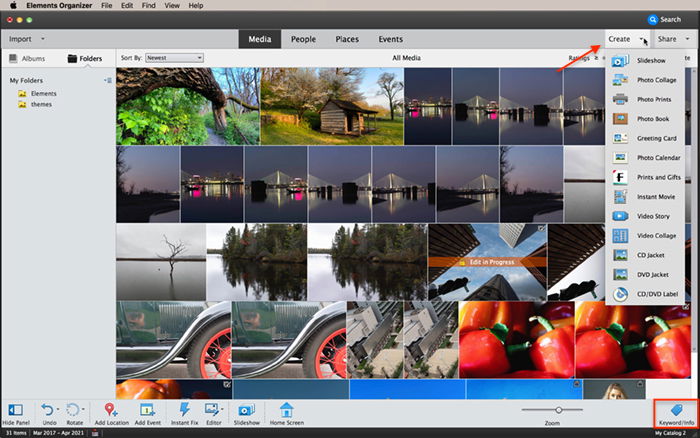 How Does the Image Quality Compare?
Photoshop Elements and Photoshop CC can create images of similar quality. Adjustment layers in the Expert workspace and Photoshop appear to work similarly. But it is much more challenging to get a refined edit using the Quick workspace. The results from the Guided edits are mixed. Some result in images of similar quality to what you can make in Photoshop. Others are less advanced.
How Does the Usability Compare?
Photoshop Elements is a simpler photo editing program than Photoshop CC. The interface is less professional in design but more colourful and inviting. Elements gives you choices in how you want to interact with it.
Where Photoshop Elements shines is in the Guided editing workspace. Many of these tools make complex changes to your images at the pixel level. These changes are possible in Photoshop, but you will need much more know-how. With a few clicks, you can add textures, blur, selective focus, and reflection. You can create shaped images or impose the picture onto text.
The sky replacement tool in Elements lags behind the current version of Photoshop CC. But the Closed Eye Correction tool is straight out of the Liquify filter playbook.
How Does the Responsiveness Compare?
Photoshop CC is a larger program with more tools, but it is quicker and more responsive to changes. Lag in Elements is noticeable. This may not bother the beginner who edits a small number of images.
What Are the Costs?
Photoshop is part of Adobe's Creative Cloud. To use Photoshop CC, you must renew your subscription each year. This includes Photoshop CC, Lightroom Classic, and Lightroom CC. It also has 20GB of storage and access to software upgrades immediately.
Photoshop Elements is a stand-alone program and is not part of the Creative Cloud. Owners of previous versions can pay for an upgrade to the latest software. Elements is the less expensive option.
Adobe allows you to try both programs free for 30 days. You could download both and see which you like the best.
Conclusion
Adobe created Photoshop Elements for the beginner photographer to learn post-processing. The program still has a lot of functionality. The Expert edit mode is like Photoshop. Many of the commands look the same, and hotkeys work in both programs.
Some complex photo manipulation is easier in Elements than in Photoshop. The language and terms used are much simpler, and there are instructions given at every turn. You are working at a basic level, but one that sets you up for the more complex Photoshop techniques.
Photoshop is more professional, but it is also more technical. If you can conceptualise a design idea, there is a way to do it in Photoshop CC. Though producing the effect may not be easy or intuitive.
Are you also using Lightroom? Try out our Effortless Editing course to master all its secrets.